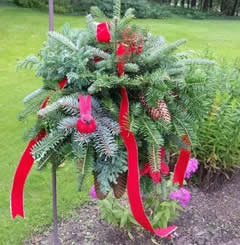 Our fresh hand-made Wreaths and Kissing Balls
are created at the farm, using our own tree material, and are available in a number of sizes and variations. The cost depends on the size and ornamentation. They are long lasting and maintain their beauty beyond the holiday season. For customers who purchase a tree from us,
FREE
boughs are available
Need more than one wreath?
Want a specific size? Need a "kissing ball" and don't want to miss out? Place your wreath/kissing ball order before visiting us and we'll having it ready!
Call 537-9327 Monday-Thursday
Custom size wreaths
must be pre-ordered. Please give us time to create your wreath. We will have it ready when you arrive.



Selection of Wreaths
Select from variety of Christmas Wreaths proudly made at our farm, made from our own materials.

Call 537-9327
Monday-Thursday
to order your own very special wreath!

Wreath or a Kissing Ball is a nice addition to your porch or other entrance. They are made of fresh greens with added ornamentation.