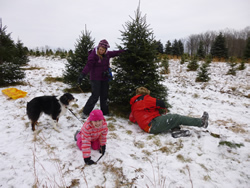 You select and cut your own tree from a large assortment. Fresh cut trees are displayed under cover at the back of the barn.
Have your tree hauled to the bundler by one of our workers or choose to bring it in yourself.
Download Country Pine Farm Overview
to help you get the best Christmas Tree and make it a family tradition!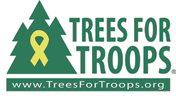 Country Pine Farm is a proud sponsor of Trees for Troops !
NOTHING SAYS CHRISTMAS LIKE A REAL TREE !
We offer the highest quality trees
in various sizes and species. All we grow are trees. We put all our care and efforts into managing an outstanding farm. Weed and pest control are high priorities. All trees are lightly trimmed to maintain their natural beauty. For customers who purchase a tree from us,
FREE
boughs are available
U-CUT TREES
-- Fields of trees are labeled for your selection convenience.
All trees in the field up to 8 ft. tall are $50.00
.(tax included)
The price is adjusted according to height for trees over 8 feet tall.
(Please try to cut your tree as close to the ground as possible.)
No chainsaws are allowed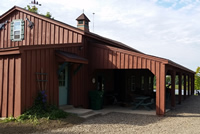 FRESH CUT TREES
-- These trees vary in size and species. Their price may be slightly more than u-cuts. We only provide the freshest trees - they are located under cover at the side of the barn
>>>
TABLE TOP TREES
are located along the fences outside and near the barn